Management Team
David K. Waldman
President & CEO
David Waldman has a long and successful track record working with publicly traded companies of all sizes and across a wide range of industries, including telecommunications, technology, industrial, financial, medical, and business services. He has built a reputation as a leading expert on communications best practices and has developed an extensive network on Wall Street. He has arranged hundreds of investor road shows and has provided communications counsel to senior members of management across a wide range of issues, including M&A, management changes, earnings surprises, crisis communications, Reg-FD disclosure, etc.
He has experience with companies that are both public and in the process of going public, including an in-depth knowledge of the unique challenges facing reverse merger companies. He has also worked with many foreign issuers tap into the growing investor demand for quality overseas emerging growth companies.
Prior to founding Crescendo Communications, David served as vice president at a leading New York City based investor relations firm, as well as two other premier investor relations firms, where he was responsible for managing a wide range of accounts. He has helped his clients build their exposure on Wall Street by attracting institutional ownership, securing research coverage, and providing introductions to sources of capital. David also brings in-house IR experience having handled the investor relations for a multi-billion dollar satellite telecommunications company.
David has a B.S. in Communications and Political Science from Northwestern University. He lives on Long Island with his wife, son, and two daughters, and enjoys fishing.
Michael Lakshin
Chief Operating Officer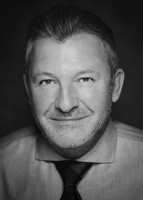 In September of 2010 Michael Lakshin, CEO of A-Concept, LLC, a business consulting company in New Jersey, joined forces with Crescendo Communications, LLC in order to open the first official representative office of Crescendo Communications in Moscow, Russia, as well as to launch Crescendo's Strategic Advisory services.
Michael Lakshin is a marketing-communications specialist with a proven history of advising middle-market and emerging growth companies. Michael brings over 25 years of senior advertising, PR, brand strategies, media buying and overall marketing-communications experience. Throughout his corporate career Michael served as a Director of Marketing and CMO for various companies, including media, Internet, telecom and consumer products, as well as worked for two tier-2 advertising agencies as a VP of New Business Development. Michael is also a proven expert in business operations with formal training in supply chain management and a record of success in increasing operational efficiencies. Throughout his corporate career, as a member of several C-Level executive teams, Michael has been involved in strategic planning, pre-IPO financing and other types of financing, as well as overseeing several successful IPOs in the U.S. As a member of various capital advisory teams Michael has participated in raising capital funds for many US and international businesses and enterprises.
In addition to his role as founder and CEO of A-Concept, LLC from September 2007 to January 2010, Michael Lakshin had been a Managing Member of Viriathus-Concept, LLC, from January 2009 until joining Crescendo Communications in 2010. Viriathus-Concept is a division of Viriathus Capital, LLC, a New York-based investment-banking firm that provides a broad spectrum of international and complex transactions to private and public companies as well as institutional investors worldwide. Since June 2007, Michael Lakshin, has been able to apply his previous capital experience by getting involved with various investment banking firms and capital advisory boutiques on Walls Street as an expert in business operations, supply chain management and international marketing to pioneer raising investment funds for companies from Russia and the former CIS within the US capital markets.
Between 2006 and 2007, Mr. Lakshin served as the Executive Vice President of International Business Development of Popa Media, a Pennsylvania-based media and advertising company where he was responsible for establishing the company's footprint in strategic markets worldwide, as well as working with potential investors to raise capital funds required to secure strategic expansion of Popa Media.
Between 2002 and 2007, Mr. Lakshin worked as the Strategic Marketing Consultant and later as the Chief Marketing Officer for Touchtone Technologies, Inc., a NY-based telecommunications company (division of former telecom giant MCI) where his responsibilities included attracting potential investors to growing the company's business in selected strategic verticals.
From 2000 to 2002, Mr. Lakshin served as the Vice President of Sales and Marketing of Empire One Telecom, a telecommunications company in New York where he had actively participated in the company's IPO.
Between October 1999 to September 2000, Mr. Lakshin worked as the Vice President of New Business Development for Spirals, a N.J.-based full-service advertising agency.
Prior to joining Spirals, since November 1996, Michael Lakshin served as the COO and Executive VP of Marketing for 9NetAvenue, which has become one of the largest web-hosting and data-storage companies in the U.S. As a member of 9NetAvenue executive management team, Michael Lakshin has been actively involved in raising capital funds for the Company from the start-up until 9NetAvenue was eventually acquired by Concentric Network Corp. in October of 1999.
Michael Lakshin holds an Executive Master of Business Administration from Rutgers University Business School.
Natalya Rudman
Senior Vice President & Director of Market Intelligence
Natalya brings years of marketing and public relations experience to the company. She has represented emerging growth companies to large-cap companies. She is responsible for managing the company's accounts, including writing press releases, message development, research, conference call scripts, consulting, planning investor road shows and handling investor inquiries. She has worked with numerous companies from a diverse range of sectors such as: technology, biotech, healthcare, and environmental services. Natalya holds a B.S. in Nutritional Science and a minor in Marketing and Communications.
Rodd Leeds
Senior Vice President
Mr. Leeds started his Wall Street career with Merrill Lynch in New York and went on to become a member of the American Stock Exchange. He began raising capital to form Limited Partnerships to take advantage of the then current tax laws. He then purchased a private ambulance service, managed the day to day operations, grew the company, and later sold to an entity that became the largest private ambulance company in the U.S. in a deal backed by Morgan Stanley. Mr. Leeds served as Vice President of Marketing and Sales for this $70 million company.
Currently Mr. Leeds consults for microcap companies across the country. He advises them, based on his operational and capital markets experience, on creative ways to maximize their marketing dollars. He assists in helping them find the right Wall Street partners to accomplish the company's mission. Mr. Leeds seeks to help maximize his clients' shareholder value through innovative investor relations programs including non-deal road shows, investor conferences, media and public relations.
Mayya Molchan
Senior Vice President
Mayya has over 15 years of experience in the fields of financial, strategic and operational management. She is a dynamic, results-oriented leader with a strong track record of performance in high-paced organizations. Mayya has an ability to utilize a diverse range of strategic and tactical experiences together with sound analytical skills to drive organizational improvements and implementation of best practices. Superior interpersonal skills, capable of resolving multiple and complex (financial, operational, legal, human resources) issues and motivating staff to maximize organizational performance. Prior to joining our team she held managerial positions at other dynamic organizations including CFO and Managing Director at UBP Asset Management LLC and a Senior Financial Analyst at Fairfield Greenwich Group. She began her career in the Audit Practice at Price Waterhouse Coopers LLC.
Justyna Gudaszewska
Director, European Operations
Justyna brings an extensive background in finance and accounting with specialties in the biochemistry, biophysics and biotechnology fields. She has extensive knowledge of both the international and Polish capital markets, as well as corporate finance, having worked as a Financial Analyst for Credit Suisse Poland as well as a Business Planning Junior Specialist at LG Display Poland.
Justyna received her Master's degree in Finance from the Wrocław University of Economics and studies at the Jagiellonian University in Kraków for her postgraduate degree in Business in Biotechnology. She is a licensed securities broker and she passed the NewConnect Alternative Trading System Adviser examination. She is participating in CFA Programme.
Pavel Semyonov
Director of International Legal Affairs
Pavel Semyonov is involved in advising companies on cross-border listing activities. He brings experience in international regulatory matters and financial transactions, including international exchange listings, as well as global partnerships, M&A, and strategic investments. He is also a co-founder and member of the board of directors of several companies engaged in investment and construction activities around the world. He provides a variety of consulting and legal support services for investment projects, as well as interaction with state authorities.